KAYLA is in countdown mode.
Her whole family is going to London England in one more week to meet JK Rowling, the author of Harry Potter. This is Kayla's wish come true from the Make-a-Wish Foundation. What a wonderful distraction from all the worries she and all her family have been through over the past 18 months. She is going for a check up today to make sure all is well for the trip. I hope to hear from her before she goes away. This was a self portrait that Kayla did while here visiting in 2005. I love how it shows the intensity within. Her hair is growing back in curly, just like it was when she was a baby. I cant wait to see photos of her trip.
Oldest son had applied for jobs but hadn't had any calls yet. Father had the theory that if he shaved of his beard and cut his long hair, his prospects would improve. After all, every place in town has help wanted signs up. Sure enough, he took dads advice and got the first job he enquired about with his nice haircut. Just goes to show that looking respectable is the better part of being respected. He has started his new job at the grocery store. Getting a lot of hours on his schedule but will be able to go to weekends when college starts in September. Saturday, he learned the hard way that all work and no play gets you thrown in the pool fully dressed! It was a hot day and it made us hot to see him in his jeans. At least he was nice and refreshed to go to work!
Younger son, is taking math all of July. He will finish a complete semester in four weeks. His aim is to get it out of the way so he wont have such a load in September. He is working doing some construction and landscaping. He bought new accessories for his drums and a new rug to put them on so they don't slide away along the laminate flooring as he plays. He had Saturday off and took a well deserved break with some friends who came over for a swim.
My daughter, the youngest child, is busy raising her kittens and loving every minute of it. She is working two days a week at a local Kennel, where pampered pooches go to spend the day instead of being locked in at home all alone. She is still doing her paper route. She has been delivering our local news for over four years. We had Heidi's girls group, Jobs Daughters over for a swim and BBQ on Saturday and this is a video of some of the girl's silliness. They had a great time and said it was the best pool party they had ever had. Duh! The last one we had it poured down!
CLICK ON THIS TO ACTIVATE VIDEO.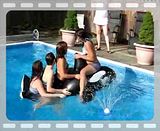 We went to a barbecue on Sunday for our Eastern Star Chapter. I have been making birthday cards for the members using my photos for the front picture. While we were at the BBQ, a couple of people who had received birthday cards from me expressed how much they enjoyed receiving them. One lady even said she was going to frame hers. I thought that was really nice. It makes me happy to have a constructive way to share my photos.
On Thursday, my Dad, of
Outhouse Capital
fame, goes for surgery. He has a hernia in his groin. He caused it by trying to be mighty man and lifted pieces of tree for firewood without cutting them up first. So he will be out of action for a while. Any thoughts and prayers would be appreciated. My mum had minor surgery in early spring, bunion surgery. Dad just has to do everything she does! If he heals and recuperates as well as she did, it will be a good thing!
They are forecasting a heat wave for our area this coming week. Anyone who bought stocks in fans and deodorant are going to make a killing!
Hope you have a good week. Stay safe!